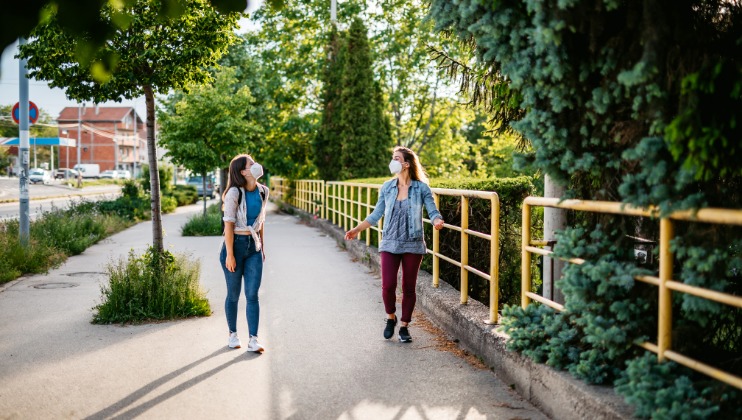 How to manage your anxiety coming out of lockdown
Posted on Monday, 3rd May 2021
With lockdown easing and life slowly returning to a sense of normality, you may find yourself dealing with a mixture of feelings. While there might be some things you are excited for, there may be others that leave you feeling anxious and overwhelmed.
Change and uncertainty can be stressful. A recent survey by the Office for National Statistics found that 49.6% of the population have reported feelings of anxiety when asked about life after lockdown. Another survey by Anxiety UK shows that of those that are anxious about restrictions lifting, 46% reported social pressures as their biggest concern, 30% stated they were anxious about visiting busy shopping centres, and 23% felt anxious about using public transport.
These are all activities that before the pandemic would not incite anxiety in most of us. However, we have spent the last year living under restrictions intended to protect us from a novel virus. It is no surprise that out attitudes and behaviours have changed as we adapted to this new way of living.
As we learn to cope with this shift to post-pandemic life, there are a few steps we can take to protect ourselves and our mental health.
Go at your own pace
Understanding that you need to go at your own pace is vital. You may see friends and family rushing to return to normal, but don't let others push you into doing anything you aren't comfortable with yet. Try to strike a balance where you are reconnecting with family and friends in a safe manner where you are slowly pushing yourself to return to normal, without feeling pressured to commit to all social events.
It can be difficult to move at a different pace to those around you. Your partner or children may be ready to meet with friends for a socially distanced catch-up while you aren't. It is important to discuss your feelings with those closest with you, whilst allowing them to move at their own pace too.
Build up tolerance
It is helpful to switch up your routine and try something new every few days, or each week. Make a note of how you felt before you left the house, during the activity, and once you returned home. Don't beat yourself up if it didn't go well. Take time to process the situation and see if you can determine what was the cause of any negative emotions.
Speaking with a counsellor about your concerns and what you are experiencing can help support you to understand your feelings and deal with the situation better, so that you are able to move forward and feel more in control of things around you.
Returning to work
With restriction easing, more and more of us are returning to our work environments. You may be looking forward to leaving remote work behind, but for others it may cause anxiety. Before you return to work, your employer should have made suitable changed to the work environment to make it "Covid-secure". It may be beneficial to ask your employer what these changes are before you return to help put your mind at ease and get a better understanding of how you work routine may have changed.
It may also be possible to have a conversation with your employer to slowly reintroduce going into work. If possible, try going in a few days a week and slowly building up the days in at your own pace. If public transport is causing you anxiety, ask if you can travel in later to avoid peak times. Remember that many other employers will be implementing similar procedures so public transport may not be as busy as it was before the pandemic.
Focus on the present
Throughout the pandemic there has been constant media coverage. It is easy to get caught up with speculation of what the future will look like, or to only focus on the negative reports. While it is good to stay informed on current events, if this is causing you anxiety it may be time to think about balancing your intake.
As the UK adjusts to relaxed measures, it is likely that uncertainty over the next steps, change, and risk management will be focus points for the future. By learning to live in the present and focus on the here and now, you will be empowered to act in response to actual events as they happen as opposed to living in fear of hypothetical worries that may never come to fruition.
Counselling can help you learn how to make that switch and use a set of tools to keep yourself grounded in the present.
Mental health support
If you are struggling to adapt to the changes to restrictions or are dealing with ongoing impact of the Covid-19 pandemic on your mental health, it is important to reach out for the right support.
If you can, try speaking to friends and family members you trust. It's likely they too are finding the changes difficult to navigate. You may find someone close to you that you can experience the changes with, supporting each other as you slowly adjust to post-pandemic life.
If you don't feel comfortable talking to friends or family, try speaking to a therapist. Within this trusting relationship everything you say will be held in confidentiality as you learn to adapt your behaviour and protect your mental health.
It is important to remember that we have been living with tough restrictions and high levels of uncertainty for over a year. At the beginning of the pandemic, it took time adjust to the new ways of life and it will be the same now that we are on the road map out of lockdown.
Don't expect yourself to be okay with jumping straight back into the activities that were commonplace before the pandemic. Make sure you celebrate the small wins (and the big ones) and keep note of all that you have achieved in this pivotal time. Remember all the times you have adapted to change previously and be kind to yourself.