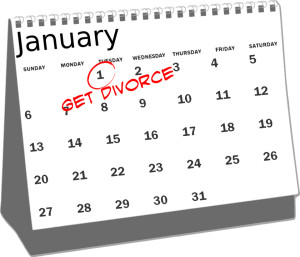 Why January is known as Divorce month!
Posted on Wednesday, 3rd Jan 2018
We welcome in the month of January gleefully announcing 'Happy New Year!' to all and sundry. This is the month for new beginnings and one when the majority of us will have made some decisions about how we intend to spend our year ahead, having spent time over the holiday period reflecting over the one that has just passed.
January is the month for resolutions and just like every other year, we promise ourselves that this year we will actually stick to them in our quest for happiness.
It's also a time when many people in unhappy relationships choose to uncouple and separate from one other, hence why January is also known as 'divorce month.'
Did you know that 1 in 5 couples plan to divorce after the holidays? It's true! According to a recent survey of 2,000 spouses by legal firm Irwin Mitchell. Instructions to lawyers to file for divorce are also up 27% so far in the month of January compared with an average month.
But why do couples choose the month of January to split up?
I asked Maura McKibbin who works with couples and families in her role as Collaborative Solicitor and Mediator www.divorce-solicitor-manchester.com to share her thoughts: "Christmas is a wonderful family occasion but for some parents it is also a time to 'get through' for the sake of their children."
Often people are reluctant to end unhappy relationships prior to, or during the holiday season for a variety of reasons. No one wants to be thought of as the person who ruined what is supposedly one of the happiest times of the year, nor do they want future Christmas's to be associated with a break up, especially if children are involved.
Often it's easier to go through the motions with family and friends, rather than have to explain what's really going on over the Christmas dinner table. In some instances there's the hope that a Christmas miracle might just happen, that special moment when two people who've been having problems suddenly hear the sound of church bells calling the faithful midnight mass and realise how much they mean to one another.
So if a relationship freeze is often the preferred decision, we may wait until we are faced with a new year to finally take stock of reality. This can result in casting out those things that have made us unhappy in the past, in preparation for something fresh and new. Often this means highlighting the flaws in our relationship and being honest to ourselves, as we imagine the prospect of repeating old habits for yet another year of discontent.
Maura is empathic: "Separation brings a myriad of considerations, emotional, social, financial and legal. For parents the biggest consideration will always be to protect their children from the fallout of their separation."
"Securing early information delivered in an even-handed and supportive way is key. It will influence decisions and actions taken in those early weeks and months that set the tone for the road ahead' Maura explains. 'Information about what children need to hear and how parents can support and reassure them, as well as how to problem solve and make decisions together about the financial future of your separated family."
Maura is only too aware that families need to feel in control at a time when their lives can feel turned upside down. "Finding out about your options can feel incredibly empowering and reassuring at what can be a terrifying time. With the right support separating couples can work things out themselves and keep costs and stress levels down," she says.
Having moved away from the litigation arena to concentrate on collaborative law, Maura encourages her clients to talk and work around a table with her support: "Often when you separate this is something that might feel helpful to your situation."
Keeping the lines of communication open and making this choice can have an enormous influence upon the road ahead for parents and their children.
Divorce feels scary and overwhelming for the majority of us. As a counsellor working with children, adults and families, I'm a firm believer like Maura that working collaboratively, helps separating families reach happiness further down the line, as they continue to communicate and learn to respect each other's opinions along the way.
Whether you've chosen or perhaps feel forced to make this huge change in your life, the process is never easy. Getting the right support will help you get your life back together again so that you can move on into a new year with a clearer sense of direction and a chance to find happiness and a fresh start.
---